Spike, the last of two eagles rescued on Mudge Island was released August 28 2014 after emergency surgery and more than a month of rehabilitation.
He was one of two eagles found stuck together in July by Mudgekins Dave and Ruve Laidlaw. Scott Smith and Marcel Glock,who are GROWLS members and resident on Mudge, along with Chad Giesbrecht (Head of the Mudge emergency response crews), were able to capture the eagles safely and separate them but it became clear that there were more extensive injuries on one of the eagles and both would need to be seen by a Veterinary as soon as possible.
According to Liz Ciocea, GROWLS president, both birds were taken to the Island Veterinary Hospital in Nanaimo where they were seen by Dr. Ken Langlier.
When he X-rayed the eagles to check for internal injuries, Dr. Langlier found that one of the eagles actually had a BBQ skewer stuck inside it, which had been working its way almost to the bird's backbone.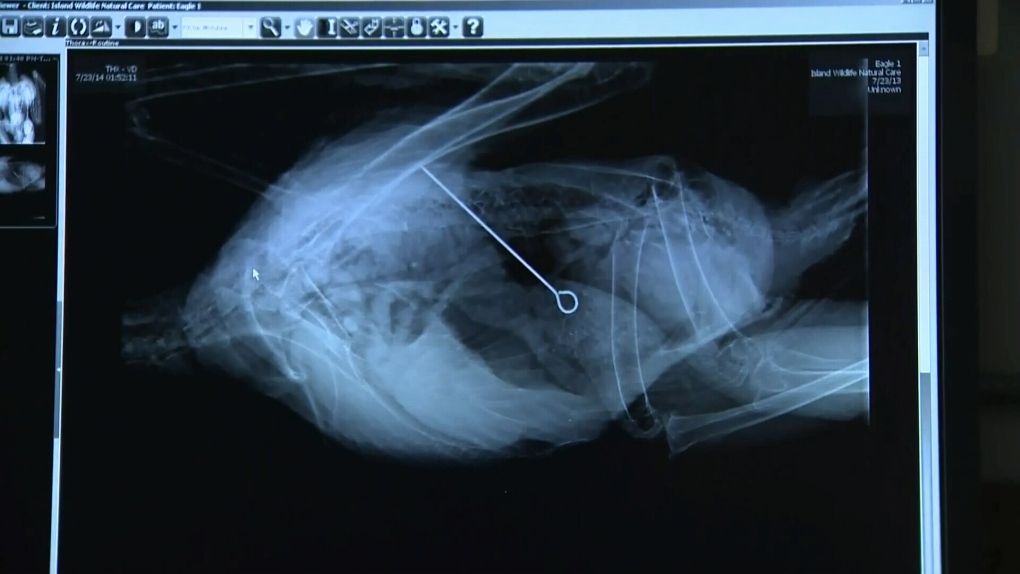 The veterinary was able to perform the surgery and remove the skewer successfully. Then both birds were transferred over to the Pacific Northwest Raptor Rehabilitation Centre in Duncan for monitoring and treatments.
The eagle who had not required surgery, was able to be released earlier in the month as seen in the video here:
The second eagle who had sustained the most injury, Spike, as named by the Mudgekins, was then released August 28th, 2014. Robyn Radcliffe from the rehabilitation centre made the trip to Gabriola Island to make the final release amid the cheers of all those present, including GROWLS volunteers and Dr. Langlier.
Liz Ciocea said it is a natural, and not unusual occurrence for eagles to lock together when fighting over territory. The unfortunate thing though from the view of GROWLS, is that "the territory is shrinking and we are having an impact on these birds ability to find nesting locations and feeding areas."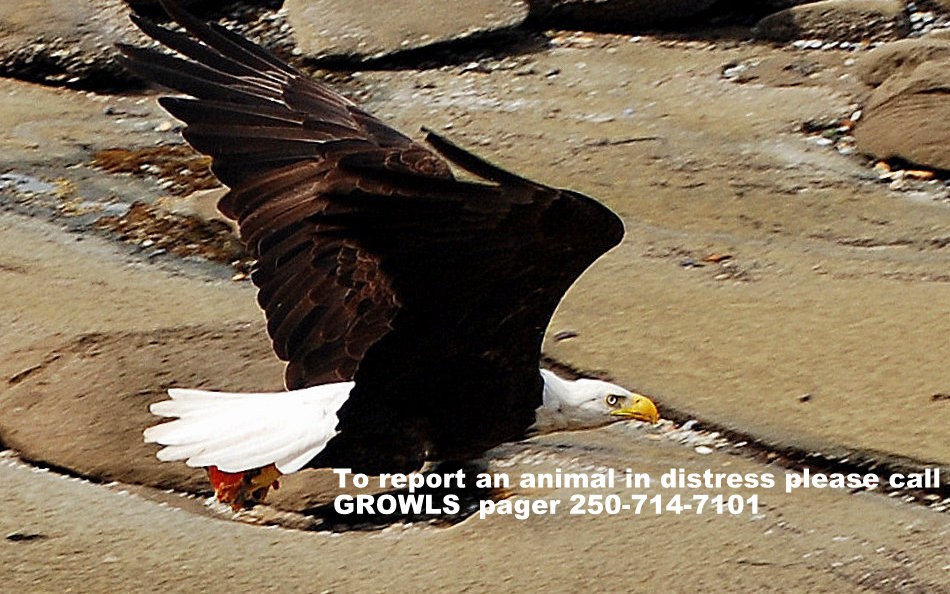 For those who witness any violation of the BC Wildlife Act, including abuse of wildlife, pollution, dogs chasing deer, or if a cougar/bear is spotted, call the BC Ministry of Environment staff at 1-877-952-7277.
Please note that anyone who finds an injured bird or animal is asked to not approach it, but to call the GROWLS emergency pager at 250-714-7101 and trained volunteers will attend the scene.
Related News Reports and Video
Second Eagle Release You Tube Video