In 2016 the first known case of White Nose Syndrome on the West coast was discovered in Washington State. Both Washington State and British Columbia are on high alert and working with community bat programs to watch for WNS. This disease has killed thousands of Bats in the East. Gabriola Bats formed in 2016 has joined the BC Community Bat Program to study bats on Gabriola Island and look for any indications of WNS.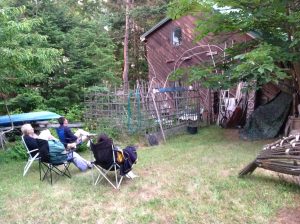 GROWLS has had several calls for dead bats or bats behaving strangely during daylight hours. Bats are usually sleeping and in their roosts during the day. A protocol has been set up by the Ministry of Environment and Public Health to test dead bats for rabies. There were two occasions where bats tested positive for rabies. The public has been cautioned to never handle live bats, report sick or dead bats.
An article in the local paper has asked islanders to notify Gabriola Bats if they have bats. Annual bat counts start in June and will be headed up by Gabriola Bats. Islanders who know about roosts on their property will be encourage d to be part of the annual bat count and will be trained to accomplish this task.
Anyone interested in joining Gabriola Bats, which is part of GROWLS, is welcome.
Contact Liz Ciocea 250 247-8805 lizzee@shaw.ca or GROWLS Emergency number 250 714-7101